Looking to add lustre to your hair? Brighten your smile? Nourish your skin? Our extensive collection of Personal Care products has something for women, men and children, every day. We use the power of science and carefully selected ingredients to develop products that are effective but gentle. Our bath and body, oral health, hair care and men's ranges will keep you well-groomed from top-to-toe!
Source amway-lithuania.com
Here are the TOP five of our favorite products:
Multi-Action Fluoride Toothpaste Glister™
Glister™ Multi-Action Fluoride Toothpaste helps teeth look and feel healthy and clean. Keep your smile bright, white and stain-free with Glister Multi-Action Fluoride Toothpaste. With REMINACT™ Silica, this toothpaste offers excellent stain removal in an enamel-safe formula. Clinical tests show it to effectively remove plaque from the surface of your teeth while helping to prevent cavities and decay for stronger, healthier looking teeth.
Deodorant & Antiperspirant Roll On G&H PROTECT+™ 
Deodorant and antiperspirant that gives up to 48 hours of odor and wetness protection, without irritation or skin discoloration. Do you know what is the difference between a deodorant and an antiperspirant?
A deodorant masks or reduces body odor. An antiperspirant reduces wetness, and as a result can also reduce odor. G&H PROTECT+ Deodorant & Antiperspirant Roll On combines both benefits in one, with the added power of our motion-release Fragrance Encapsulation Technology for even longer protection from odor.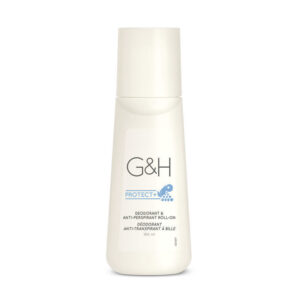 Concentrated Liquid Hand Soap G&H PROTECT+™ 
Hand soap with concentrated formula which will leave your hands feel hydrated, soft, and smooth.
2-in-1 Hair & Body Shampoo HYMM™
One man, one solution: the 2-in-1 Hair & Body Shampoo cleanses the body from head to toe and bathes the skin in well-being.
A formula created with Water Mint Extract and Sea Minerals cleanses both body & hair while leaving a fresh scent and provides light conditioning effect to the hair.
 Body Lotion G&H NOURISH+™ 
G&H NOURISH+ ™ Body Lotion delivers long-lasting, nourishing hydration for the whole family.