Nutrition. Health
We all know that a right nutrition helps us stay healthy and active. But it is not always that simple. With busy diaries and hectic schedules, it can sometimes be tricky to eat the way we know we should. Furthermore, the quality of food available today is often compromised due to environmental conditions. Luckily, our product range can provide the nutrition that you are missing.
Whether you want to support general well-being or an active lifestyle, enhance your beauty from within, find a weight management programme that works or simply kick-start your day; Nutrilite™ and XS™have the solution. From foundational and targeted food supplements to products that help you lose and maintain weight – discover a variety of nutritional options to suit your individual needs and help you stay on track.
Source amway-lithuania.com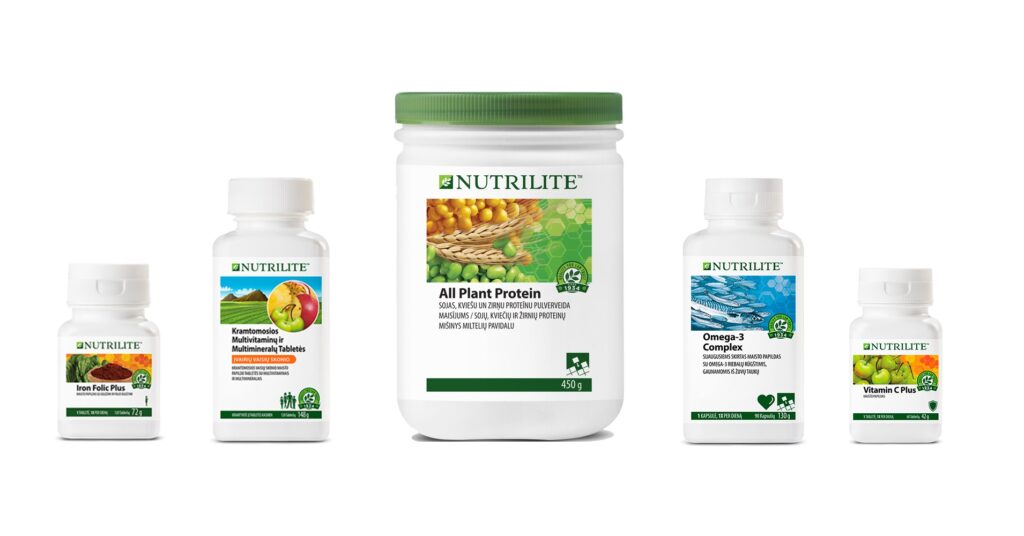 Here are the TOP five of our favorite products Nutrition
Vitamin C Plus NUTRILITE™
Nutrilite™ Vitamin C Plus is a highly effective food supplement that delivers a slow and steady release of Vitamin C throughout the day to support your normal immune function.
Good to know
Nutrilite™ Vitamin C Plus is a food supplement containing citrus bioflavonoid concentrates from whole fruits including lemon, mandarin, orange and grapefruit that helps to support normal immune function and healthy skin.
Extended release formula provides a slow, steady release of nutrients into the body to maximise absorption without the waste associated with large doses or instant release tablets.
This food supplement contains Vitamin C from acerola cherries. This rich source is grown on our own Nutrilite farmland where we only used sustainable farming methods.
There are no artificial colours, flavours or added preservatives in this food supplement.
DOUBLE X™ Nutrilite™ tray
Nutrilite DOUBLE X is a food supplement that provides a balanced combination of 12 essential vitamins and 10 essential minerals. It is enriched with PhytoBlend™, a special blend of 22 plants derived from fruits, vegetables and herbs that are not always easy to include in your everyday diet.
What it does for your nutrition
Nutrilite DOUBLE X is designed to help you close any potential nutritional and phytonutrient gaps. This allows you to regain your inner balance and thereby enhance your natural potential.
It delivers premium support to your body in many forms:
Brain function: Iodine supports normal cognitive functioning. Vitamin B12 contributes to normal psychological functioning.
Nervous system: Copper supports the normal functioning of the nervous system.
Immune system: Vitamin C contributes to the normal functioning of the immune system. 
Energy-yielding metabolism: Niacin supports a normal energy-yielding metabolism. 
Management of inflammatory responses: Curcumin helps your body manage inflammatory responses.
Digestion and liver: Calcium supports the normal functioning of digestive enzymes. Rosemary and curcumin help support normal liver functioning.
Cells: Calcium has a role in the process of cell division and specialisation.
Oxidative stress: Vitamin E contributes to the protection of cells from oxidative stress.
Heart function: Vitamin B6 supports normal homocysteine metabolism and thiamine contributes to the normal functioning of the heart.
Bone function: Vitamin D is needed for the maintenance of normal bones.
Muscle function: Magnesium contributes to normal muscle functioning.
Eye function/vision: Vitamin A supports the maintenance of normal vision.
Skin, hair and nails: Biotin contributes to the maintenance of normal skin and hair. Vitamin C supports normal collagen formation, helping the skin function normally. Selenium and zinc contribute to the maintenance of normal nails.
Balanced hormones: Vitamin B6 supports the regulation of hormonal activity and pantothenic acid contributes to the normal synthesis and metabolism of steroid hormones, vitamin D and some neurotransmitters.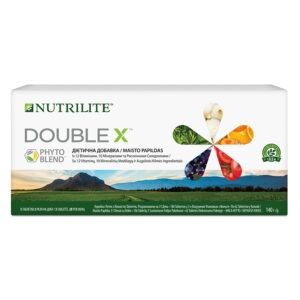 Kids Immunity Support Plus NUTRILITE™
Kids Immunity Support Plus Nutrilite contains  Vitamin D which supports kid's immune system, to help ensure they don't miss out on their daily activities.

What It Does For You
Supports children's immune system with Vitamin D*.
Great 4-in-1 product, which combines Vitamin D with Vitamin C, Zinc and lactic acid producing bacteria.
 Fast melting powder in convenient stick packs which can be put directly on the tongue.
Fun and tasty – the powder has a yummy taste and leaves a fun, cooling sensation on the tongue.
The 1st children product among leading global vitamin brands with vitamin D for immunity support, enriched with vitamin C, zinc and Bifidobacterium lactic acid producing bacteria that comes as a fast melting powder
Why You Would Like It
Getting cold and wet while exploring the world is a normal part of growing up, and important for your kids' development. You can help them do what kids do best by supporting their immune system with a daily supplement they will enjoy taking!
Providing a daily dose of Vitamin D, Kids Immunity Support Plus Nutrilite can help support your kids' everyday adventures in a way that's fun, convenient and packed with benefits. It contains a special blend of Vitamin D, which supports children's immune system,  Vitamin C, some of which is extracted from green acerola cherries, Zinc and lactic acid producing bacteria. The fast-melting powder comes in handy stick packs and can be put directly on the tongue or mixed with cold drinks (e.g. juice) or food (e.g. breakfast cereals). It leaves a cooling sensation on the tongue and has a yummy, slightly sweet taste. There are no artificial colours, flavours or added preservatives in this product.
One product and a 4-in-1 solution both you and your kids will love!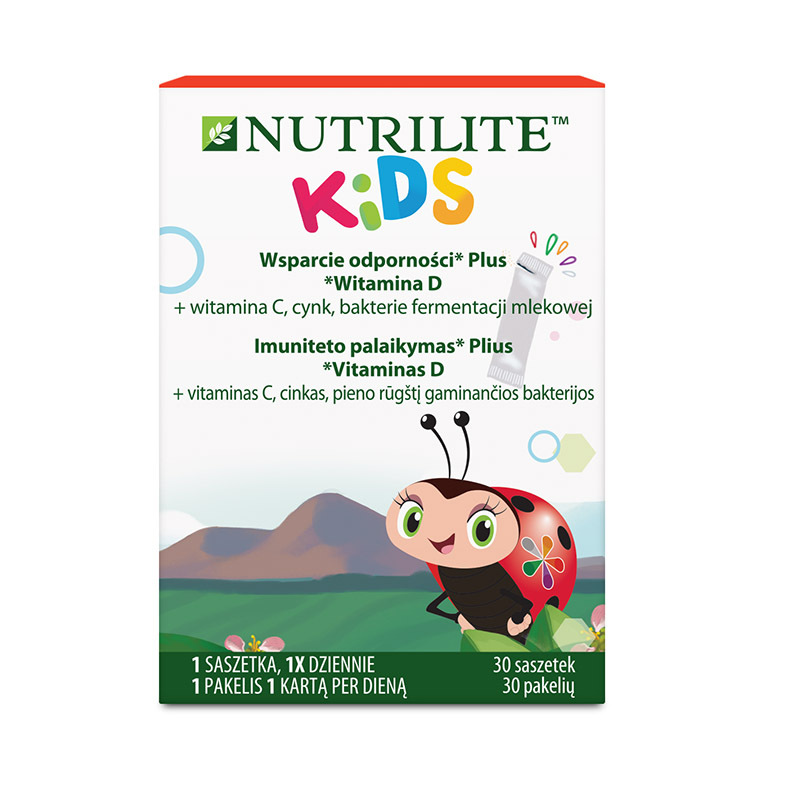 Natural Multi-carotene NUTRILITE™
Nutrilite Natural Multi Carotene is a food supplement with a carotenoid mixture from naturally derived sources.
These capsules contain a special carotenoid complex, from three naturally derived sources: Dunaliella salina algae, palm oil (Elaeis guineensis) and marigold (Tagetes erecta).
This complex contains beta-carotene, alpha-carotene, and lutein, a complex of carotenoids similar to what is found in a mixture of various fruits and vegetables. Features. Impact to health nutrition
Provides carotenoids similar to the mix found naturally in fruits and vegetables
Provides lutein
Provides a source of vitamin A (beta-carotene is also called provitamin A)
No artificial sweeteners, colours, flavours or preservatives added
Chewable Cal Mag NUTRILITE™
A food supplement with calcium and magnesium that supplies these two essential minerals.
The early years are the most important in a child's development. Calcium plays a vital role in helping to build a solid framework of healthy bones and teeth.
Magnesium contributes to the normal nervous and muscle function. Help to build a solid foundation by supplying you and your child with delicious, fruit-flavoured form of calcium and magnesium.